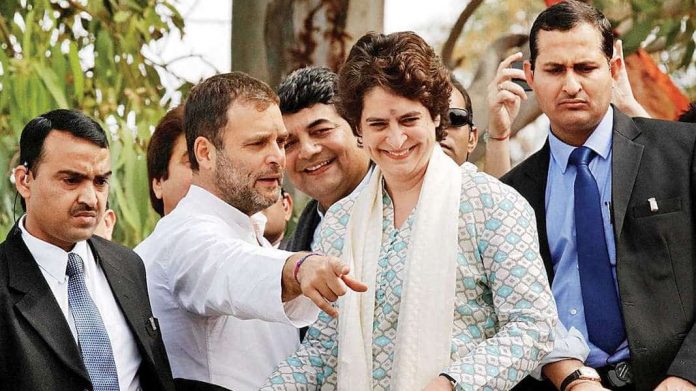 Daughter of former prime minister Rajiv Gandhi, granddaughter of one of India's most popular prime minister Smt. Indira Gandhi and great-granddaughter of India's first prime minister Jawaharlal Nehru has finally decided to enter into active politics.
Well, she doesn't need any introduction as she has been the known and most eagerly awaited face in Indian Politics because of her persona, charisma, legacy and close resemblance to her Dadi who ruled India for almost two decades. For more than last 20 years since her mother Sonia Gandhi entered politics, Priyanka has been nursing the family pocket borough of Amethi and then Raebareli, the only two constituencies where Congress managed to win in 2014 general elections.
The chorus for her entry into politics has been long since the time her father was assassinated and it became loud and vocal after her mother Sonia Gandhi finally entered into electoral politics in 1997. She was requested by All India youth congress to take over as president of the Congress youth wing as early as in 1992 which she has declined politely expressing her gratitude for the same.
The first public and media glare of Priyanka goes to 1991 after her father's assassination in Sriperambadur. Though she has campaigned as a teenager in her father's constituency in 1989, she was not exposed to media attention. It was in 1991 when the nation saw the first glimpse and repeated images of her comforting and holding her grieving mother in her arms by her side while bringing back the corpse of his father. This was followed by another one the very next day when she went to the airport to receive Rahul Gandhi and broke down hugging him tightly.
Well, the question today is whether her entry will make any difference in the almost moribund organization of Congress in UP. She has been given the charge of eastern UP barely 100 days before the general elections of 2019. This is the same region where her mother's and brother's constituencies come along with Phulpur and Allahabad, the first being the constituency of Jawaharlal Nehru and the second home town of Gandhis.
Though the Congress could never revive in UP after the fall in 1989 general elections, it managed to put a good show in 2009 general elections when it managed to win 18 seats from this region out of the 21 total seats it won in UP. The caste equation is the dominant factor in UP politics and lately, the Gandhi surname merely is not enough to garner the votes. Still, it is to be seen whether Priyanka will finally emerge as a force to reckon with.
She definitely has charm, fluent in Hindi which her mother and brother lacks, not shy from media and appears confident. Till now she has been working with her mother and brother behind the curtains but henceforth after officially entering into active politics, she will be constantly under public scrutiny. Her entry will definitely enthuse and charge the Congress cadres in UP but is not something which will change the things overnight. The strategy of giving her charge also seems to be long term taking into account the 2022 assembly elections.
She took charge after dropping her husband at the ED office completely unfazed and then holding roadshow in Lucknow and brief tour of UP just a few days after. The next few days will make for close watch and speculation where she can lead up to.