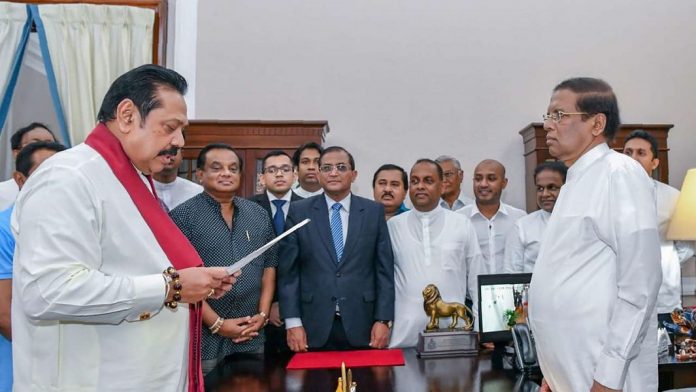 Recent news came from Sri Lanka which took attention all around the world. Sri Lankan President Maithripala Sirisena sacked Prime Minister Ranil Wickremesinghe and appointed Mahinda Rajapaksa as new Prime minister of Sri Lanka. To showcase his power President Maithripala Sirisena also suspended Sri Lankan parliament till November 16th.
The interesting fact here is Mahinda Rajapaksa is the former president of Sri Lanka and to throw him out of the power Maithripala Sirisena and Ranil Wickremesinghe who belong to different parties came together as a collision in 2015 presidential elections and defeated Mahinda Rajapaksa.
Is it Constitutional:-
Well if we look into past history of the Sri Lankan constitution, President can remove Prime Minister anytime in the first year of his term. It happened in past when Ranil Wickremesinghe was removed by that time president Chandrika Kumaratunga. But in 2015, Rajapaksa's government changed this with the 19th amendment in the constitution. As per this amendment, only Parliament can remove the Prime Minister.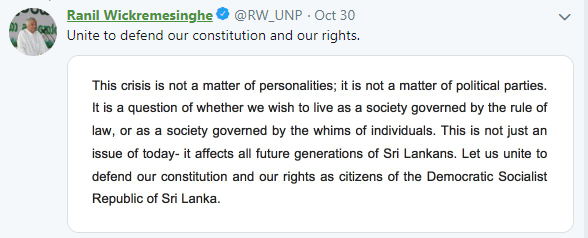 What is Now:-
If we see the current scenario it is looking very difficult for Ranil Wikremesinghe to come back. Unless Parliament doesn't start and Wickremesinghe prove the majority and pass the floor test, it is a clear way for Rajapaksa.
We can expect intervention of the Supreme Court of Sri Lanka and efforts of parliament speaker Mr. K. Jayasuriya to resume the parliament before political parties do horse trading.
"We ask the Honourable Speaker to summon Parliament urgently- only through the parliamentary system can we can save our country from this unfortunate and dangerous situation. Let us forget our political differences and rally to re-establish democracy in our country." pic.twitter.com/GLefEIdxO2

— Ranil Wickremesinghe (@RW_UNP) October 29, 2018
Importance for India and International Community Reaction:-
Geopolitically Sri Lanka is very important for India for keeping close eyes on China and dominance in the Indian Ocean. We can not clearly state about Sri Lanka stand is Pro or anti-India. Most of the time they play safe between India and China. But if we look into the history President Sirisena Is known for his anti-India stand.
It can be when news from his ministry came that RAW planning to kill him later Ministry has to issue a statement for clarification or Sirisena's move to block many India backed projects in Sri Lanka.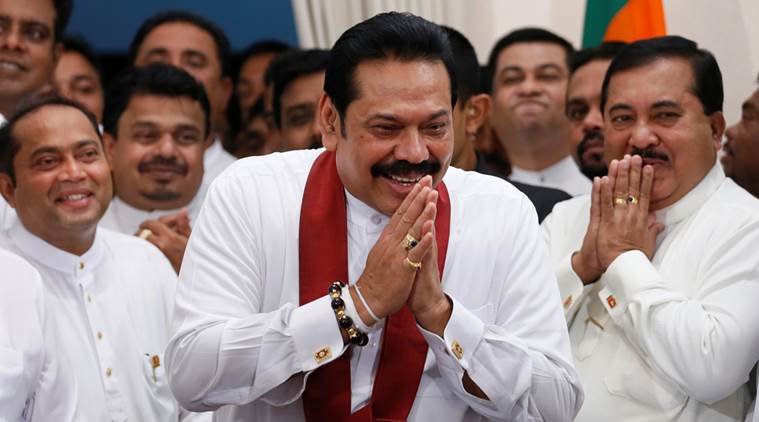 Mahinda Rajapaksa is known for his pro china stand. It is to be said that Rajapaksa gave too much access to China in Sri Lanka in development projects or construction etc. Rajapaksa keeps on taking loans from China which result depth on Sri Lanka and in the end Sri Lanka has to give it's Hambantota port on lease to China which increased Concern of India.
Coming to the reaction from the international community, the United States urged political parties to abide by Constitution and refrain from violence.
Ministry of external affairs of India gave a statement as "India is closely following the situation in Sri Lanka. As a democracy and a close and friendly neighbor. We hope that democratic values and constitutional process will be respected.
Whereas China welcomes and congratulates the new Prime Minister of Sri Lanka.
The current crisis in Sri Lanka is something we need to wait and watch. It shows the failure and lack of coordination between collision government of Sirisena and Wickremesinghe. Also shows the political situation in the country where President display such Extreme use of his power without following the constitution.
We hope Sri Lankan parties follow the Constitution and see some positive output.